Welcome to SoFlo Pool and Spa Builders of Boca Raton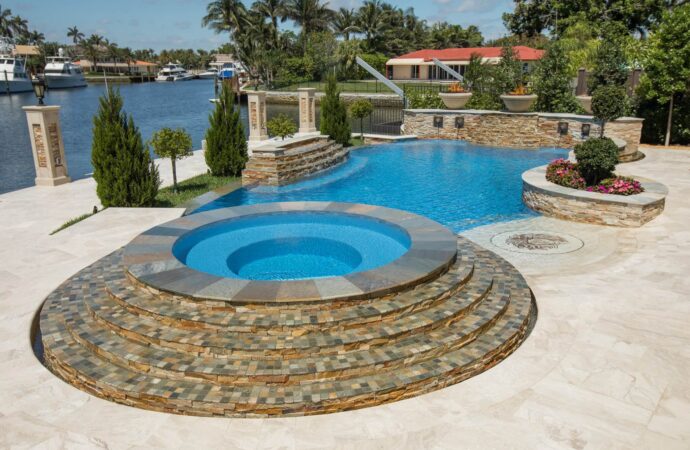 When you are thinking about going over your pool construction project or maybe remodeling your existing one, remember this: it can be stressful if you don't have all the help and support required for your project. It is important to consider all factors and variables that will give you the desired results and help you prevent spending more time and resources later. It would be a waste of money since redoing or remodeling pools shouldn't be so common, nor should you have to worry about bringing a new design later. We are the best choice at SoFlo Pool and Spa Builders of Boca Raton if you are looking for highly skilled professionals who can use advanced technologies and materials to achieve outstanding results and maximize your investment.
We are proud of our reputation and how hard we have worked to climb to the top and remain there, as we are always striving to deliver unique and beautiful results that everyone will love and feel happy about, not just satisfied. 
We are able to bring in custom designs as needed and will always keep your needs and preferences in mind so you can have a result that will be focused on what you can have in your space but on what you want as well. Our company's best feature is our promise to deliver a durable, beautiful, and long-lasting design that will outlast all your hard work over the long and short term, so repairs and maintenance don't become a hassle or nuisance.
For over 31 years, we have been in business and are committed to providing excellent services to all Boca Raton residential and commercial property owners and surrounding areas. No matter what design you choose, our team can help you create the best swimming pool for your property. We will help you in any way we can and even go over remodeling and renovations as needed and requested when you reach out to our team.
No matter how big or small your pool may be, we deliver outstanding results. This is why we encourage our customers to trust us and offer the possibility of pool features. All property owners should have access to quality and reliable services, and we will promise nothing more than this. We must be able to offer a range of services while not overextending ourselves. It is natural to want to do our best within limits, but some companies in the area seem to forget that covering more comes with a lot of work and time that needs to be put into offering the best solutions. We focus on you, on delivering what we can and making sure you get the best support.
SoFlo Pool and Spa Builders of Boca Raton will provide all the assistance you need to design a pool that meets your requirements and taste without you having to spend a fortune in the process.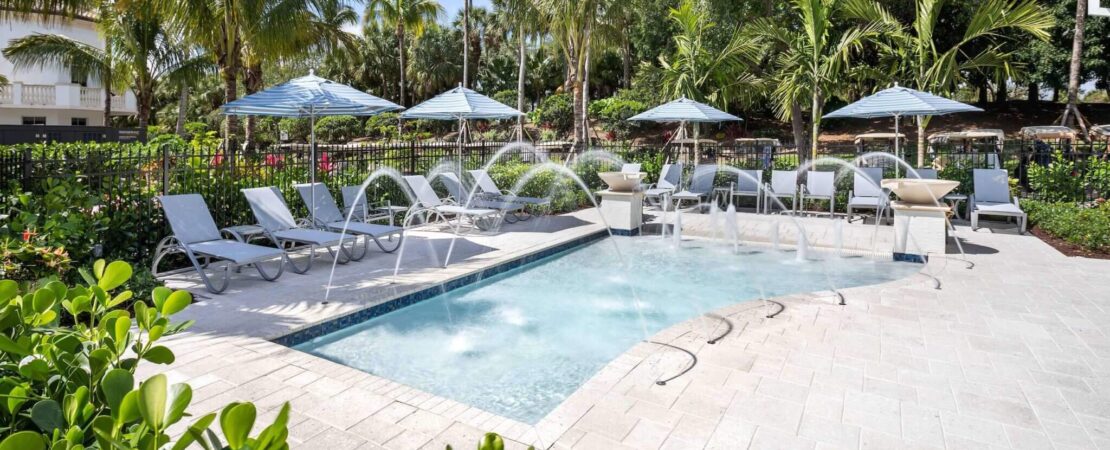 Do We Have the Services You're Looking For?
Our pool team can assist you with all aspects of construction, remodeling, and renovation. We also offer services that will help you choose the best design and options and aim for the different types of pools available in the industry. We are also available to answer any questions you might have about your pool and how it should fit into your space since consultation services are part of what we deliver if it is needed.
It can be hard to imagine what your pool could look like or what design would be the best for you and your guests or clients. Contractors and professionals might have told you that adding new features to your pool is difficult to work, or maybe they have recommended some designs. 
There are many 'maybes' in all this as we understand that most property owners aren't that clear about what they want or could fit their vision in their outdoor living spaces as this isn't only about a general design but rather bringing a complement to the entire area.
We will be there to assist you at all stages, and this includes supporting you in choosing the best design and style, along with customizing the necessary parts. We will focus on finding all the contractors that we need to ensure you receive the best possible assistance in the following:
Your pool's design and which style would be better based on your preferences and needs.

The planning stage is part of the construction process, and we will take care of it while you're involved.

We'll work with you to adjust your budget based on your needs and preferences and make sure you can get the perfect design for everything.

It is important to adjust the space so that the pool does not take up too much space and that you can get the desired design without struggling in the process.
Once we have measured and learned all about you, our team will be able to assist you with any concerns or questions. Of course, part of the entire process includes working with different spaces and bringing all the solutions and answers to problems and questions. We will work hard to finalize the design and plan so we can begin the construction or remodeling process.
This is a complete list of the services we offer, and you're free to request any of them as you see fit for your projects:
How to Have Our Team Work on Your Project
We would like to get to know your property and you. After we have assessed your space and given you all the support and attention required, we will be able to give you a quote. 
We know that not all customers are willing to have us visit their homes right away. Sometimes they simply don't have time. You may find yourself in an awkward situation where you cannot give us access, and you don't receive an accurate estimate based on your final project price. To get an estimate, send us any relevant information via email or telephone.
We need to know the dimensions of your property and what you want the pool to look like.
Before we can get back to you, we will need to learn a little about you and your property. We will then be able to give you a quote that is close to the cost of the project. No matter if you are looking for pool construction or renovation, make sure that you select the right service. Our team will need to know details about your space and the size of the pool you want so they can calculate the dimensions. If you have a budget or time frame, we will need to know.
To get a better understanding of what is required and how the space can be extended, we recommend you meet with our team. It will help you to understand the scope of work involved.
We want you to feel happy, and for it, we need your cooperation at all stages so our team can bring everything together for you.
Before we begin the construction or remodeling of your pool, we will be happy to support and guide you.
To tell us more about your project and to get in touch with us, you will need to phone or email us. When you contact us, we will be glad to discuss your requirements in terms of design, service, and what you want for your property and space. Take the time to discuss everything with our team by using the channels that we have provided.
If you're allowed to enter, you can also use the contact form to request a quote and fill out any questions. We'll respond quickly and help you understand why it's not necessary.
Do you have a specific service in mind or an idea for your pool's design? We offer general services to help you with all aspects of your pool design, such as choosing the right materials, elements, and colors.
We can help you create a design and style that suits your needs as well with our custom pools and spa service.
We would have to adjust other elements or add-ons. This is about customizing the pool to your specifications. We will need to learn more about you and your preferences. This will be based on the design that you have selected for your space and the type you want. If you are interested in a custom-designed pool, you don't have to spend too much time designing it.
No matter what, we're here to help you. Our team at SoFlo Pool and Spa Builders of Boca Raton is ready to assist you with any questions and all the processes of your project.
Below is our list of additional services: