Architectural Pool Builds and Spa Construction for Boca Raton Residents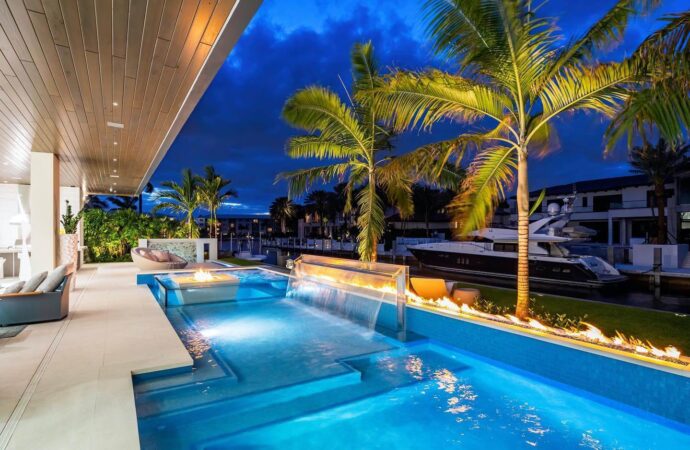 Because of their beauty and the fact that you can have them for many years without worrying about others or thinking the design will feel old at some point, both residential and commercial property owners love architectural pools and spas and choose to have them designed and built for their own spaces. When they are finished, they leave behind a beautiful, functional, durable, and clean design that every person in Boca Raton and nearby areas should be able to enjoy. At SoFlo Pool and Spa Builders of Boca Raton, we know this quite well since our team has been involved with the construction of these pools for more than a decade. 
We know what it takes for a beautiful and lasting result. We work with top-quality materials, so you don't have to worry about functionality and aesthetics, and you bet the final result will last quite a lot, so you don't worry about repairs or have to perform more maintenance than the regular one.
Designed to suit both residential and commercial properties, architectural pools can be used for all types of purposes, and you can get a specific or customized design if you take the time to work around the geometric shapes and the changes you can make in the structure. 
Traditional designs can be too boring or make it difficult to enjoy your pool after a while. It may look beautiful, but people don't like it when it becomes overwhelming or after they have been there several times. Instead, architectural designs bring a modern look—this is why they're part of the modern pools and spas category—and won't make people tired of the space even if they visit several times. It may even be the reason why they keep coming back.
Now the question is: how do you know if what you are designing is an architectural pool? Is it something that is easy to recognize and get for your space?
The structure and design of the pool are often more elaborated than regular ones, which have simple concrete and laps in the surrounding spaces. However, architectural pools, minimalist and simple as they are, elevate elegance and bring a modern and sophisticated vibe to the place.
There are many design options available for an architectural pool. It is appealing to choose this design for your outdoor space. If we focus on how it is treated or identified, we know that you will be able to identify it quite easily using the geometrical influence.
Architectural pools can be either square or rectangular pools. Many homeowners prefer the geometric pool design, and a unique style is important for commercial property owners, so take the time with our team to go over how your pool will look if you decide to choose this type.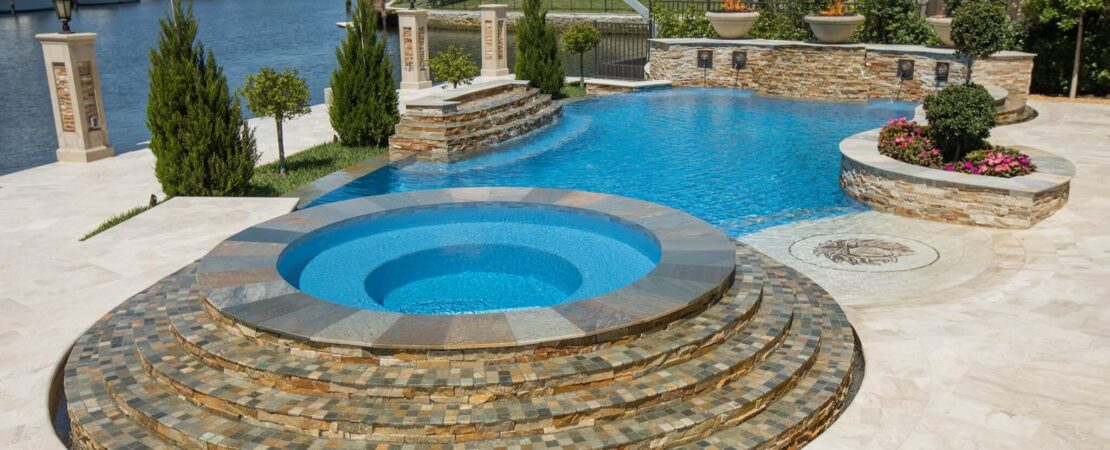 We Encourage You to Get an Architectural Pool & Spa
A landscape design can integrate your pool with your outdoor living spaces, but it is often difficult to have a pool that will integrate itself well once it is designed and built in a space that was already well-designed.
An architectural pool won't feel like an added feature. It will blend in with the environment and ensure you get to enjoy the stunning harmony around all the features and elements in one place.
Qualified builders are able to help you make this happen. Our experts will be able to guide you through the process and ensure that your pool is beautiful.
There are two options when you're aiming for this pool: go for a minimalist design or a stunning design that brings more features. You can also opt for a more straight-lined and geometric design. This option is not mandatory, and you're welcome to add what you want, but we do recommend sticking to what is simple and allowing the structure to speak and shine for itself.
There are many options for modern swimming pools. Depending on your goals, you can add features to your pool or remodel the whole area. Our pool builders will assist you in this process and make sure you don't feel overwhelmed with all the steps and details that need to be handled in the project, either if you are building this from zero or remodeling it for a new design.
This Is How We Help with the Construction
It is better to take your time and then go through the information we share and have compiled for you to make decisions. It will make you feel less overwhelmed, and it won't take you too much time to look at all the options if you allow us to be your support. 
The main step in the process is to provide details and information about all design options (including colors and textures) that can be used when you create your architectural pool. We can help you make a list that will allow you to make quicker decisions and not compromise the final result at all.
You can find some guidance to help you navigate this process. Keep it simple, and you'll see how everything moves and progresses by itself, and we want you to remember that minimalism doesn't have to be boring. There are certain guidelines regarding what can be added to an architectural pool and how you can get a stunning result with minimal effort. This is about making the pool's structure and designs the main focal point of the whole structure.
Our team at SoFlo Pool and Spa Builders of Boca Raton will provide support and a free assessment. We can also help you get started with your project by providing a quote that will be based on what we see in your property and space or on the information you shared in the beginning with us.
We will take care of the entire design and planning stages if you need us to, but remember you will always be fully involved in the decisions and how the architectural pool is designed for your residential or commercial property. Allow us to be there for you and bring everything together without delay.
Below is our list of additional services: