Family Recreational Pool Builds and Spa Construction for Boca Raton Residents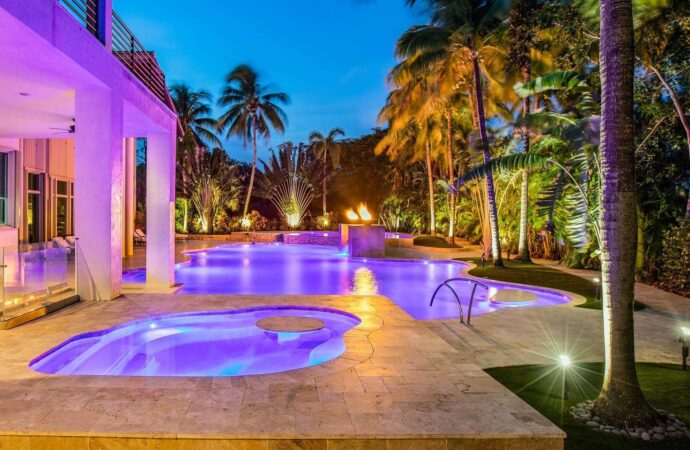 SoFlo Pool and Spa Builders of Boca Raton's team loves to help families add new features or spaces to their backyards to create memories and have a good time together without limitations or having to visit other places to enjoy a pool day with everyone gathered. How do we help, though? Our team has the expertise, experience, and ability to create the perfect results for you, no matter what you want to add to your family recreational pools and spas, if you decide to go for this feature for your outdoor living space. 
We know there are many choices when it comes to the features you want and how you wish to design this feature, so we will make it as simple as possible, so you don't feel overwhelmed. We will use different examples to help you create the design that you envision and bring different styles and ideas you can choose from that go well with the ideas you share with us during this process.
Family recreational pools and spas should have some extra features for aesthetics and fun. While you can still have fun with the basic features, it can get a little boring. Sometimes, you want additional amenities to encourage more exercise and enjoyment. However, this must be done correctly if you don't want one to interfere with another or cause problems in the long term to the point of increasing your expenses in maintenance as well.
What features and amenities can you add to your pool to create a memorable experience for your family? This is the first question we help answer.
Essentially, you can include slides or work with waterfalls or include different elements that you can see in water parks that allow kids or adults have the best time.
The pool will offer more than just a relaxing experience, that is for sure. Our pool contractors have more than 30 years of experience and can create a unique design for your pool. 
We will present the options to you before we proceed to the actual design. You are the final judge in this process and rest assured we will not take a single step unless you're happy with the specific design we bring and create for you.
Many families have a slide or a waterfall installed in their pool. It creates an outdoor space everyone can enjoy, regardless of the pool's depth or height. You can add more features to your design and choose not to use them unless it is time to have a new experience with your family members and friends.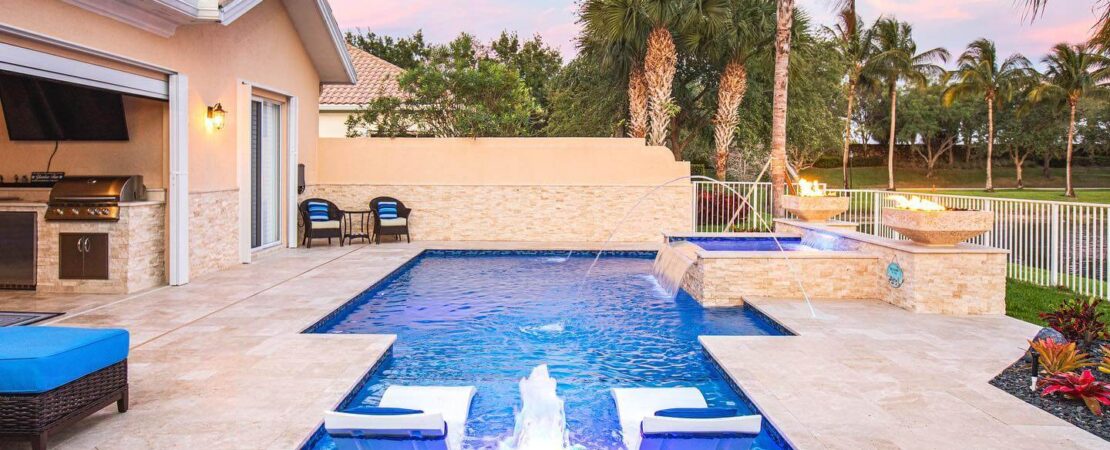 Before you get too concerned about extras and features, consider the size of your pool and what it will look like for you and your family. Some considerations include going over the different sizes that will be customized around what you need:
The pool will be large enough to accommodate over seven people and also allow for them to have fun. The dimensions of the pool should be approximately 18 feet by 38 in. You should consider how many people will use the pool and what extra amenities you want to add. This will allow you to design the pool according to the right size and the intended uses, and you can even fit more people depending on how the structure is handled.
These will typically be 16×32 feet in size. They are ideal for smaller properties or those who don't require all the space, but you will need to consider the number of people you plan to fit in it in the short and long term.
They also measure between 14 and 25 feet. They are great for up to five people and can provide basic needs while still including some features in it.
We Use a Wide Variety of Materials for the Pool
Every pool is different and made with different materials as a result—a bit redundant there. Pool builders also use specific tools depending on the design and type of pool they're dealing with since some steps and parts of the project need to be handled with specific expertise. You can create certain styles or designs with different materials depending on what you want.
Gunite, fiberglass, and vinyl are all great options for pool design. These are strong options that offer great results for a low price. The pool's total cost is, therefore, lower and more affordable for you, but this can vary based on the additional features and the final pool size for your space.
We will introduce you to all the options besides the regular ones that people know about since this will be perfect for broadening your mind and allowing you to know more alternatives that aren't only more affordable but also more suitable based on the design and surface you want to achieve in the entire pool area.
Also, some materials are better when you consider adding some features such as slides or maybe waterfalls, and you want to make sure that regardless of the one you end up choosing, you are sticking to your budget. Otherwise, prices can get out of control, and you will end up with the opposite of what you expected from this project.
Get Your Free Estimate with a Call or Message
You only need to call us or send an email to reach our team. We are grateful for any information or facts regarding your property. Let us know what your plans are for this entire pool.
We will need to schedule a visit to assess the space and determine the dimensions. This will enable us to plan the process so that you get the best possible results. It will also allow you to make sure you have a lasting one that your family and friends can use.
SoFlo Pool and Spa Builders of Boca Raton will be happy to install your spa or pool in record time, so everyone can start enjoying the space without hesitation. 
Below is our list of additional services: